Have you been on the search for a reputable tile store and tile installation Fresno company? Do you wish to install tiles in your new home or change the flooring of your current home? If your answer is yes, then you are at the right spot. Here, we would highlight the best tiling outfits in Fresno that would give you 100% value for your money.
Tiles are fast becoming the in-thing when it comes to buildings these days. They fit in well with any building and also add to the aesthetics. What else? They are strong, reliable, and durable. Little wonder many residents in Fresno are replacing their old flooring with tiles. Tiles are also cost-effective. When compared to other flooring materials, tiles don't need much to retain their sparkle and shape. Just cleaning with the right materials and you are good to go.
Tiles last longer than a host of other flooring materials. The National Association of Home Builders (NAHB) estimates that tiles can last as long as 75 – 100 years. The longevity of tiled floors depends on the material the tiles are made from, their quality, and how the tiles are installed. Porcelain, ceramic, granite, terrazzo, and others would serve the home for a long time only if they are obtained from quality vendors and installed properly. This is why you need a trustworthy tile store and tile installation Fresno outfit so you don't get disappointed. Take a look at the professionals you should be considering below.
3rd Generation Flooring
If you are looking the get great craftsmanship and on-time service delivery, then 3rd Generation Flooring is the way to go. This outfit, as the name suggests, has a long history haven started in 1947. The secrets of making great floors have been improved upon and passed down for 3 generations making the company one of the most trusted floor installers in Fresno.
3rd Generation Flooring has a showroom where you will get to see prototypes, designs, and various tiling materials. They stock only quality materials here and guide customers through the selection process answering all the questions they might have. Jack Snr, the current administrator, is an excellent craftsman. He is also an honest man that places customer satisfaction and relationships above everything else. If he gets to handle your flooring projects, you will get impeccable service after which they will clean up as nothing happened earlier.
Highlights
Impeccable service delivery.
Honest and trustworthy founder and team members.
Top-quality craftsmanship.
| | |
| --- | --- |
| KNOWN FOR | 3rd Generation Flooring |
| WEBSITE | https://3rdgenerationflooring.com/ |
| ADDRESS | 6129 N Blackstone Ave Fresno, CA 93710 |
| CONTACT DETAILS | (559) 478-5472 |
| OPERATING HOURS | Mon-Fri: 10:00 AM – 6:00 PM |
Creative Tile
The co-owner of Creative Tile Fresno, Ryan Smith, has promised to take proper care of you and your floors this year and this isn't a joke. This is exactly what he and his business partner (also his wife), Tara, has been doing since 2000. Creative Tile was born out of a passion to see to it that the residents of Fresno get the best in terms of premium tiling solutions.
Creative Tile has one of the largest tile stores in Fresno stocked with quality tiles with the best designs. There is hardly any tile you want that you won't get there no matter the shape, size, and design. They have products from well-respected industry giants like Pratt & Larson, Walker Zanger, Hallmark, Oceanside Glass Tile, Island Stone, Artistic Tile, Tile Shop, Richards and Sterling, and many more. They also offer designer tiles from different locations in the world little wonder they are always the first architects, builders, interior designers, and even "do-it-yourselfers" approach any time they want to start a project.
Creative Tile doesn't just sell tiles, they also install. Staying true to their name, Ryan leads the team to install appealing tiles in the most eye-catching patterns possible. Creative Tile is a one-stop-shop for all your tiling needs.
Highlights
One of the largest tile stores in Fresno.
Stocks and offers only quality products.
100% satisfaction guaranteed.
KNOWN FOR
Creative Tile
WEBSITE
https://www.mycreativetile.com
ADDRESS
7030 N Harrison Ave
Fresno, CA 93650
CONTACT DETAILS
(559) 436-8453
OPERATING HOURS
Mon-Fri: 7:30 am – 5:30 pm
Italia Tile & Marble
One great place to get the best tiles in Fresno and get them installed quickly is Italia Tile & Marble. There's never a time this company runs out of stock. Be it the tiles from local brands or imported ones from world-renowned manufacturers, Italia Tile & Marble has it in stock. You can also get tiles up to tiles up to 24″x24″ in size whether porcelain, natural stone, travertine, slate, marble, granite, limestone, metal, alloy, or glass, it's a non-issue.
Italia Tiles & Marbles also sell tile cleaning and restoring products. They have a host of chemical and water-based formulations that would keep your tiles sparkling for long. They are also into tile installations. With highly skilled professionals, this company installs not just any kind of tiles but those that specifically fit wherever they are wanted. And guess what? All these come at pocket-friendly costs you can get in only a few places in the County.
Highlights
Quality tiles and care products you can trust.
Knowledgeable and professional staff.
Prompt service delivery.
| | |
| --- | --- |
| KNOWN FOR | Italia Tile & Marble |
| WEBSITE | https://www.italiatileandmarble.com |
| ADDRESS | 655 W. Alluvial Ave. Fresno, CA 93726 |
| CONTACT DETAILS | (559) 431-6382 |
| OPERATING HOURS | Mon-Fri: 7:30 am – 5:00 pm |
Cardoso Tile & Construction
Cardoso Tile & Construction has been serving the people of Fresno and beyond for over 30 years. Rick and Angel Cardoso create magic with tiles. Their craftsmanship is second to none and in a class of its own. They and their crew are also courteous, nice, and very polite. They also offer great service at pocket-friendly rates. This makes the company one of the most sought-after installation outfits in Fresno.
Cardoso Tile & Construction works on all kinds of tiles and more. They install porcelain, ceramic, vitrified, terrazzo tiles amongst others. They also remove tiles and do a total makeover of existing floors. Cardoso only sends out highly-trained and professional teams to handle projects. They are expert professionals and clean out after their work. You wouldn't want to miss the great service offered at Cardoso. You would stick with them after one trial.
Highlights
Expert tile installation service.
Over 30 years of experience.
Honest, nice, and professional staff.
| | |
| --- | --- |
| KNOWN FOR | Cardoso Tile & Construction |
| WEBSITE | |
| ADDRESS | 12345 South Avenue San Diego, CA 92104 |
| CONTACT DETAILS | (888) 123-4567 |
| OPERATING HOURS | Mon-Fri: 10:00 AM – 6:00 PM |
Rivera Bros. Ceramic Tile & Marble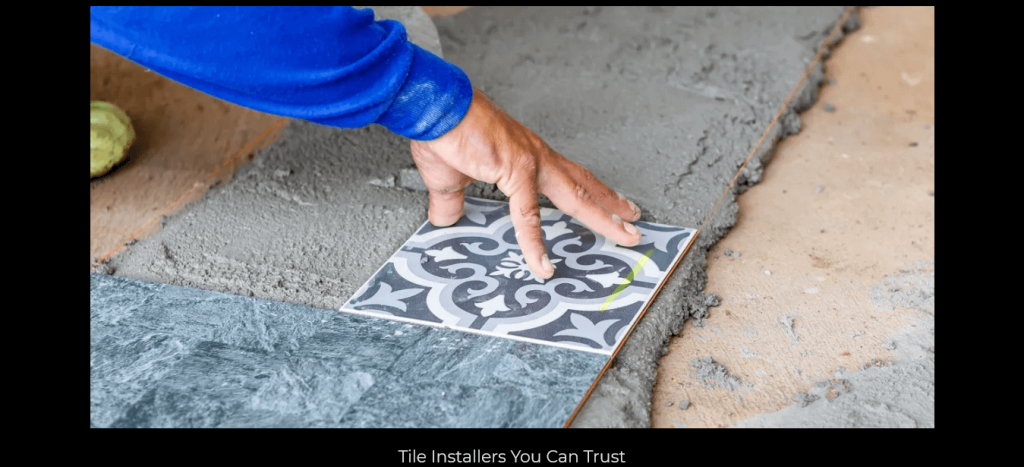 Rivera Bros. is another company that should be on your list if you are searching for the best tile store and installation Fresno companies. Rivera Bros. differs from many others in that its sole business is tiles and marble. Run by a father and son, this company has handled a good number of flooring projects in Fresno for the past 25 years.
Rivera Bros. offers a full range of commercial and residential tile installation in whatever and wherever tiles are needed. They will install tiles in your kitchen, bathroom, fireplaces, countertops, outdoor porches, or anywhere you want tiles to be. They also offer expert advisory services which help you chose the right kind of tile for the right place. While at work, they use only the best materials. Their expertise gave them great knowledge about tiles and their nature. So if you are working with them, you have absolutely nothing to worry about. They are one of the few installers you can trust.
Highlights
One of the few installation companies in Fresno that solely deals in tiles.
Free expert advisory service.
Quality service guaranteed.
Emser Tile
Nothing beats the feeling of getting America's largest privately-held tile company on your project. You just know you will derive maximum satisfaction. Emser is the biggest tile store in America with a network of over 4 distribution centers as well as 78 showrooms and service locations spread across several locations in the Country including Fresno. At Emser, you will get exceptional customer service and top-quality tiles that will meet whatever specifications be it performance, aesthetic, or budget.
At Emser, you are sure of all kinds of tiles. They have a huge stock of ceramic, porcelain, natural stone, terrazzo, vitrified, as well as decorative glass and mosaic products. They are even a leader in designer ceramic and porcelain tiles amongst others. All these products come at great rates. You are buying from the store where other smaller stores buy from so you should know what to expect. Although Emser doesn't install tiles, they have links with the best installers in the County and would connect you to them upon request.
Highlights
Largest tile store in the country.
Unbeatable prices in Fresno.
Exceptional customer service.
| | |
| --- | --- |
| KNOWN FOR | Emser Tile |
| WEBSITE | https://www.emser.com/ |
| ADDRESS | 8431 Santa Monica Blvd. CA 90069 |
| CONTACT DETAILS | 323-650-2000 |
| OPERATING HOURS | Mon-Fri: 7am – 7pm |
Tiles are undoubtedly great for your homes. When installed, they add to the structural integrity as well as beautify the environment. However, getting the right tiles and installing them may not be as easy as it seems. You need to have an eye for quality and design to select the right tile for application. This quality is less likely to be obtained from doing it yourself. Also, tile installations can be quite challenging especially when a rough and poorly graded floor is involved. They also need to be sealed at the edges so the rough edges won't hurt anyone. These and many more reasons are why you need professionals to handle the installation.Getting quality products from the best tile store and tile installation Fresno companies and having them install them puts you at a great advantage. You will get premium satisfaction with their choices and designs while getting durable tiles in your home, office or wherever you want them installed.
If you need to fix or remodeling your bathroom, Here is the list of best bathroom remodeling in Fresno.
I have a passion for discovering and sharing the best products and services in the city. With a background in research and a network of contacts, I conduct in-depth investigations and assessments to bring you the most accurate and valuable information. When I'm not exploring the city, you can find me hiking in the nearby trails or spending time with my family.