Bicycle shop in Fresno sells all kinds of children tricycles and bicycles, different variants of adult bicycle such as folding bikes, road bikes, mountain bikes, tourers, BMX, and so on. So, if you are looking for the best bicycle shop in Fresno and surrounding areas, this guide might be helpful for your needs.
Fresno has great weather for cycling and you will find avid cyclists on city streets regularly. Hence, it is very important that the best bicycle shops contain all kinds of accessories and gear specially manufactured to meet the requirements of individuals. Here is a complete list of some of the best bicycle shops you can find in Fresno.
Fresno Schwinn
If you are looking to buy a great bicycle or searching for an expert to repair the same, Fresno Schwinn might provide you with the best solution. You might have visited other similar shops, but none will give you the feeling that Fresno Schwinn gives. In short, the team at the facility is amazing.
Whenever you visit the place, you receive special care and attention so that it feels like you are a valued customer. They are always ready to help you out with your requirements about picking up the best bike or repairing them. The skilled team helps you right from the beginning until they get the job done.
On top of that, the sales team is friendly and knowledgeable. They provide you with the exact bike and accessories that you were looking for. People were extremely pleased with their service and refer other people who are yet to visit the place. They have a wide variety of collections and it isn't very hard to find out the one you are looking for.
Highlights –
Friendly staff
Amazing customer service
Recommended for everyone
| | |
| --- | --- |
| KNOWN FOR | Fresno Schwinn |
| WEBSITE | N/A |
| ADDRESS | 2444 E Ashlan Ave Fresno, CA 93726 |
| CONTACT DETAILS | (559) 226-2453 |
| OPERATING HOURS | 10:00 AM – 6:00 PM |
Grizz Alley Bike Shop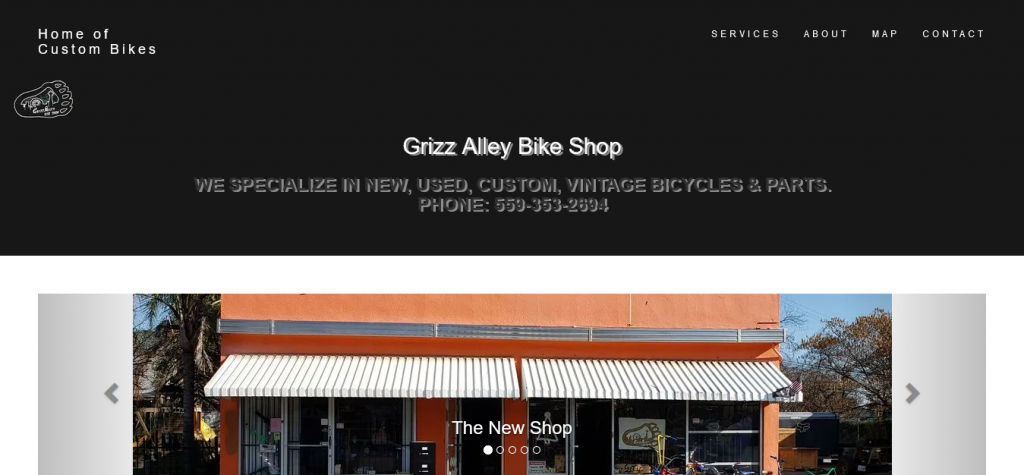 It is another great bicycle shop that specializes in new, used, personalized, vintage bicycles, and all kinds of accessories associated with them. In short, Grizz Alley Bike Shop is a one-stop solution for every bicycle enthusiast seeking to buy all kinds of bicycles and other services that include repairs as well.
Be it custom parts, custom bicycle frames, or custom upgrades, you can have them all in this store. There is a special offer for veterans as well, which is they receive about 20% off on all purchases. Also, they give you free labor with any bicycle purchase. This kind of gesture is very hard to get from other bicycle stores in Fresno.
Grizz Alley Bike Shop has been around in the area since 2017 and catering its services to the people of Fresno. So, you can pick whatever frame, pedals, tires, wheel, and handlebars you might like and make the purchase. Also, you get to choose from custom saddles and colors.
Highlights –
Variety of bicycle designs
Good repairing work by skilled labors
Discounts and free labor
| | |
| --- | --- |
| KNOWN FOR | Grizz Alley Bike Shop |
| WEBSITE | https://www.grizzalleybikeshop.com/ |
| ADDRESS | 90 W Herndon Ave Fresno, CA 93650 |
| CONTACT DETAILS | (559) 437-0999 |
| OPERATING HOURS | 7:30 AM – 5:30 PM |
Herb Bauer Cycling
Founded in 2018, Herb Bauer Cycling specializes in youth, mountain, and BMX cycling. Also, they are counted as the best bicycle shop in Fresno that offers high-quality repair work. What's more interesting is that they provide these services at reasonable prices that very few shops offer.
Although it is a small bike shop, you can find a variety of bikes, tools, and repairs to choose from. The shop has staff that is knowledgeable and gives honest service to customers. Even when you don't have enough knowledge about bikes, you get valuable information about them when you visit them.
While they carry complete bikes ready for sale, you can even get personalized bikes that cater to your needs. Going through the online reviews, it is evident that people are satisfied with their mode of working and receive great results. So, if you need to buy a new bike, customize your bike, or looking to repair them, this is the right place for you.
Highlights –
Friendly and knowledgeable staff
Competitive pricing
Delivers amazing repair works
| | |
| --- | --- |
| KNOWN FOR | Herb Bauer Cycling |
| WEBSITE | N/A |
| ADDRESS | 6232 N Blackstone Ave Fresno, CA 93710 |
| CONTACT DETAILS | (559) 287-1510 |
| OPERATING HOURS | 9:00 AM – 5:30 PM |
Rubber Soul Bicycles
Founded in 1995, Rubber Soul Bicycles aim to provide every customer with the right bicycle so that they can enjoy outdoors riding a bike. So, if you are looking to buy your first bike or want a bike to take down the completion, this bicycle shop has it all.
The shop aims to provide people living in Fresno and surrounding areas with a wonderful place where they can come in, try the equipment, and ask all kinds of questions without getting humiliated. The workers at the facility believe that everyone should enjoy streets, trails, and roads on a bike.
The shop has a variety of collections and you can have amazing service beyond your imagination. The staff doesn't limit themselves to just selling the bikes. Rather, they take notice of everything that goes with the bike. There is no doubt that the place has earned a good name by dint of their hard work.
Highlights –
Helpful and friendly staff
Attention to details
Best customer service
The Bike Shop at Woodward
The store was founded in 2017 with the ambition to bring an encouraging and friendly environment to the people living in and around Fresno. They have skilled laborers that offer special repairing work for all kinds of bicycles. Whether you are an expert or just starting, they have the right bike for you.
Also, the Bike Shop at Woodward offers rentals, which is a unique service in Fresno. The addition of electric bicycles is another achievement to this store and you can even rent them to try out before buying. The staff are so kind and welcoming that you feel at home.
Highlights –
Knowledgeable and helpful staff
Competitive pricing
Skilled professionals
| | |
| --- | --- |
| KNOWN FOR | The Bike Shop at Woodward |
| WEBSITE | https://www.thebikeshopfresno.com/ |
| ADDRESS | 9433 Fort Washington Rd Ste 102 Fresno, CA 93730 |
| CONTACT DETAILS | (559) 392-6657 |
| OPERATING HOURS | 1:00 PM – 6:00 PM |
So, you can find all the things needed for a wonderful ride at the best bicycle shop in Fresno that includes different variants of apparel, accessories, gear, and bikes. These local stores provide bicycles and accessories and have proven themselves as a favorite. These are some of the popular bicycle shops you can find in Fresno to fulfill your desires.
Don't forget to check out our other lists if you need more stuff for riders. For example, if you're looking for insurance for a motorbike, then check out the list for the best motorcycle insurance in Fresno.