Mental health is as critical as physical health, and it affects how our bodies work and perform in day-to-day life. Find the best mental health clinic in Fresno, California.
Mental health challenges are common in our culture. However, more and more individual do not prioritize this aspect because of stigma, financial and time constraints, or lack of access to quality treatment.
Mental Health entities and facilities aim to change that by bringing mental health care directly to patients via walk-in appointments in their offices. And now they offer virtual therapy, too. They are making mental health treatments more accessible to those in need.
We have narrowed the list to give you our references for the best mental health clinics available in Fresno, California, from the long list of on-demand mental health and therapy services to choose from.
Top mental health clinic in Fresno listed bellow:
Aspire Counseling Services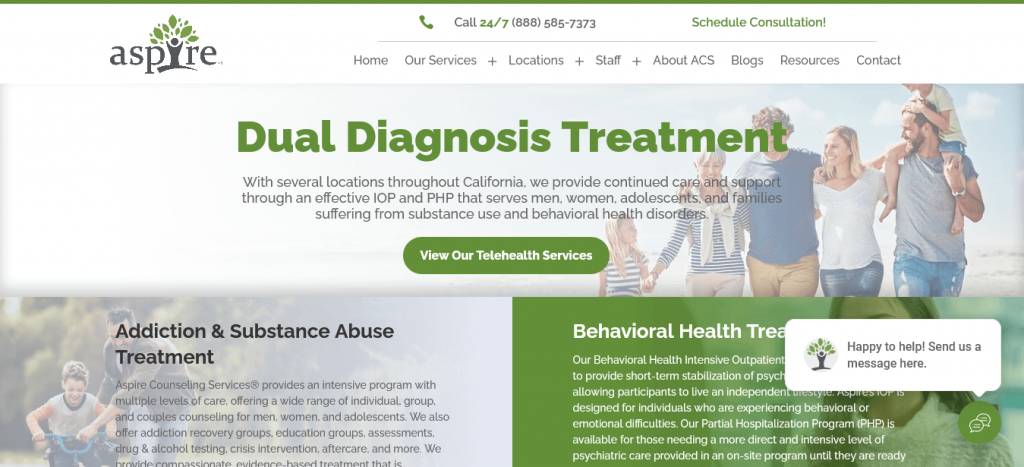 Established in 2015, Aspire Counseling Services offers treatment for addiction and behavioral health.
Their services are provided by licensed clinicians with the expertise and personalized approach. Among all their services, Aspire is known for putting people back to life from substance addiction.
They do not just give a helping hand; the professionals behind Aspire are competent, caring, and invested enough in their patients' well-being.
Highlights:
Free consultations
Staff speaks Spanish
Free parking
| | |
| --- | --- |
| KNOWN FOR | Aspire Counseling Services |
| Website | https://aspirecounselingservice.com/ |
| ADDRESS | 7125 N Chestnut Ave Unit 104 Fresno, CA 93720 |
| CONTACT DETAILS | (888) 585-7373 |
| OPERATING HOURS | 24 hours (Open) |
Elevate Brain Training
Elevate Brain Training brings together a combination of a whole new approach and empathy to Fresno, California.
Using the state-of-the-art BrainPaint device to help the brain learn to work better, Elevate Brain Training is a boutique methodology specialized in delivering a high-quality neurofeedback experience.
Neurofeedback is a neurobiology-based science in which the brain, by operative conditioning, enhances its function. Neurofeedback enhances several brain problems like ADD/ADHD, anxiety, autism, bipolar disorder, brain injury, depression, to name a few.
In only the first 5-8 sessions, BrainPaint customers usually note significant changes. Customers would usually require about 20, probably 30, sessions. The younger the brain and the fewer sessions needed, the more likely it is to adapt. Elevate Brain Training operates for clients from 5 to 105 years of age.
Highlights:
Offers Military Discount
Latinx-owned
Gender-Neutral Restrooms
Empower Speech Therapy & Life Skills Center
Serving people with innovative and individualized treatment for speech and communication problems is their forte.
Empower Speech Therapy & Life Skills Center's broad spectrum of services covers speech treatment for those with autism, delay and deficiency of speech, stroke recovery, stuttering, and more. They also offer marriage, relationship, and family counseling.
Their specialty is handling toddlers providing a kid-friendly environment and a warming staff to make the kids at home. They not only offer speech and vocabulary treatment, but they also offer great tips for parents to work on with their children at home.
And amid the pandemic, Empower Speech Therapy also offers Teletherapy sessions. With this, patients won't lose their progress. The communication with their office is also efficient, making it easy for parents to manage the transition between face-to-face and virtual therapy.
Highlights:
Accepts Insurance
Free consultation
Offers teletherapy
| | |
| --- | --- |
| KNOWN FOR | Empower Speech Therapy & Life Skills Center |
| Website | https://www.empowercv.com/ |
| ADDRESS | 420 Bullard Ave Ste 104 Clovis, CA 93612 |
| CONTACT DETAILS | (559) 801-2626 |
| OPERATING HOURS | 08:00 AM – 6:00 PM |
Fresno Health & Wellness
Fresno Health and Wellness one of the best mental health clinic in Fresno. It is specialize in depression, anxiety, and complex relationship therapy. This is also the go-to place for highly motivated women who often experience high stress due to their intense responsibilities in career and life. These are experts in guiding and keeping the balance of home and career life.
Since they prioritize the working moms who seek assistance in their life, they also offer online booking and can accommodate flexibility in scheduling according to your liking.
Fresno Health and Wellness's new location provides a calm atmosphere with soft music and aromatherapy. The colors play a significant part in the mood too, which are reflected in their lobby area.
Highlights:
Virtual consultations
Online booking
Flexible Schedule
| | |
| --- | --- |
| KNOWN FOR | Fresno Health & Wellness |
| Website | https://fresnohealthandwellness.com/ |
| ADDRESS | 2109 W Bullard Ave Ste 121 Fresno, CA 93711 |
| CONTACT DETAILS | (559) 246-8679 |
| OPERATING HOURS | 10:00 AM – 8:00 PM |
Sierra Meadows Behavioral Health
Sierra Meadows Behavioral Health provides counseling and therapy for people suffering from depression, anxiety, mood disorders, and behavioral conditions.
Their service is run by talented and skilled therapists who use effective counseling to restore health and work balance in those who suffer from mental health problems. They also have numerous personalized services for counseling and group therapy.
For years, Sierra Meadows Behavioral Health played a crucial role in helping their clients as they take on the journey to healthier living. This place provides the perfect balance of helping people whose illness is not as severe enough to require hospitalization but not well enough to go on without proper counseling.
Sierra Meadows' outpatient counseling is offered for both daytime and evening hours. The program is a four-day per week, three hours per day. Before enrollment, they offer patients an initial psychological assessment, an individualized treatment plan, group and individual therapy, and case management services.
Highlights:
Virtual consultations
Online booking
Outpatient Services
Depending on an individual's needs, these mental health facilities have different approaches that can be used separately or together to address and manage mental health issues.
Choosing to pursue therapy is a personal choice that depends on your needs and limitations. You could also choose to go to a virtual treatment offered by the clinics we featured. Some people choose online therapy because it is cheaper, more convenient, and have more ways to communicate with their therapist, while others prefer face-to-face interaction. If you are new to therapy, it's best to know various methods and available clinics to find what works best for you.
By the way, this is just one of our medical service lists for Fresno. You will find more extensive list while spend some times on the blog. You might be interested to read best psychologists in Fresno.
If you need dermatologists instead, Here is the list of best dermatologists Fresno.